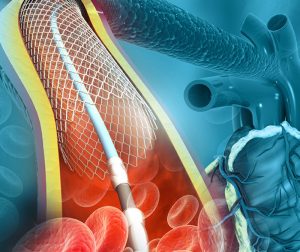 For years, James Sanders could not manage the short walk from his home to his mailbox without severe pain in his right leg.
His leg was always cold.
But Wednesday he was Baptist Medical Center Jacksonville's first patient to undergo a new angioplasty treatment forperipheral artery disease, which had   caused his leg pain and circulatory problems. By Thursday, thanks to a tiny drug-coated balloon that reopens clogged arteries, he was feeling almost spry for his 68 years.
  Provided by Baptist Health James Sanders, 68, of Savannah was the first patient to under go a new angioplasty treatment at Baptist Medical Center Jacksonville that uses a tiny drug-coated balloon to reopen arteries. Baptist was the first hospital in North Florida to use the procedure.
"I am very excited," said Sanders, from his Savannah home. "It just tickles me pink."
Millions of Americans suffer from peripheral artery disease, which causes fatty material to build up in the arteries carrying blood to the head, organs and limbs. If untreated, the disease can lead to severe blockage in the arteries of the legs or feet, and even amputation.
Baptist Health said its Jacksonville hospital was the first in North Florida to use the Lutonix 035 Drug Coated Balloon PTA Catheter, which allows medication to be released onto the inner surface of the artery to limit the amount of scarring that occurs following the procedure.
Limiting scarring extends by several years the amount of time before the artery may become blocked again, said vascular surgeon Erin Moore, director of vascular and endovascular surgery at Baptist Medical Center Jacksonville, who performed the procedure on Sanders.
The standard treatment lasts one to two years; this new one, three to five years, he said.
"Our hope for these patients is that when we do an intervention it will last longer," Moore said. "We are doing something that has more longevity and more durability."
In typical angioplasty, a doctor threads a thin tube through a blood vessel in the arm or groin up to the blockage, then inflates a tiny balloon at the end of the tube to push the plaque outward against the wall of the artery. This widens the artery and restores blood flow. The new treatment adding a low-dose coating of Paclitaxel to the balloon was recently approved by the U.S. Food and Drug Administration.
Paclitaxel is also used in cancer chemotherapy.
"It is a cell-killing medication," Moore said, and when used in arteries kills "the cells responsible for creating scarring."
Nonclinical testing and three clinical studies showed the safety and effectiveness of the Lutonix drug-coated balloon, according to an FDA news release.
"Peripheral artery disease can be quite serious. Preventing further blockage of arteries is just as important as removing the initial blockage," said William Maisel, deputy director for science and chief scientist in the FDA's Center for Devices and Radiological Health. "The clinical data show that Lutonix … may be more effective than traditional balloon angioplasty at helping to prevent further blockage."
Sanders, diagnosed with diabetes in 1995, had been dealing with right leg pain from peripheral artery disease and a wound on his right ankle. In 2013 in Georgia, he underwent a different procedure to open up his arteries, but it failed.
He was thrilled with the work of the drug-coated balloon.
"This is the first day my leg has been warm in years," he said. "The last one didn't work. … They got blocked again. When they told me this would work, I was excited about that."
Sanders said he did not mind being Baptist's first patient for the new procedure.
"It seemed to me to be a good thing," he said. "I feel lucky. … I hope it can help others, too."