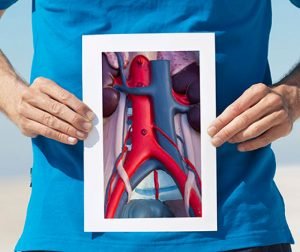 About 200,000 new cases of abdominal aortic aneurysms (AAAs) are diagnosed annually in the U.S., and 1.5 million people are living with abdominal aortic aneurysms.
Tragically, around 15,000 people die annually from a ruptured AAA, many of them having never been diagnosed in the first place.
Finding them early and keeping them from rupturing is critical. A new clinical trial starting at Baptist Medical Center Jacksonville in December [2016] will evaluate the next generation of a minimally invasive endovascular device that helps treat these aneurysms.
The GORE® EXCLUDER® Conformable AAA Endoprosthesis is an investigational device designed for the minimally invasive treatment of patients with abdominal aortic aneurysms and challenging anatomies. Gore's AAA current generation of stent-grafts have been used to treat more than 250,000 patients worldwide. This new investigational device expands on the ability for repositionability, durability and patency.
The new stent incorporates design elements similar to the GORE® Conformable cTAG® Device used to treat aneurysms of the aorta within the chest to enable apposition in tortuous aortas below the renal arteries where AAAs typically occur. Approved for patients with either proximal aortic neck angles of up to 90 degrees or a minimum aortic neck length of 10 mm, the new Conformable AAA device allows for tailored treatment and crucial precision in more difficult anatomies.
"The novel part is that the top of the graft can be turned," said vascular surgeon Erin Moore, MD, FACS, RPVI, chief of Thoracic and Cardiovascular Surgery at Baptist Jacksonville. "Aortas are not a straight tube. They are often bent or twisted. This new device can easily turn and realign so the patient can get blood flow through the graft while sealing the aneurysm outside of the circulation. We make the graft fit the aorta, not force the aorta to accommodate the graft, the latter of which can lead to late complications after implantation."
The new graft is available to select patients as part of an FDA-approved investigational Device Trial.
"This is exciting for us because we have the opportunity in this trial to treat a select group of patients with difficult aortic anatomy two or three years ahead of widespread availability of the device," Dr. Moore added. "This is very promising technology."
Moore and his partners operate on 70 to 80 abdominal aortic aneurysms a year at Baptist Jacksonville.
"Many patients present with rupture. There is an 80 percent mortality rate, if not higher, with a ruptured aneurysm. Our whole goal is to catch it early, manage it appropriately, then intervene at the proper time," Dr. Moore said. "In many cases, the aneurysm actually shrinks around the graft."
Peripheral artery disease
Another study recently completed at Baptist Jacksonville assessed the CR Bard® Lutonix® .035 drug-coated balloon catheter for treating peripheral arterial stenosis. The balloon is inflated in a peripheral artery and releases medication onto the inner surface of the vessel to limit scarring that sometimes occurs inside the blood vessel after treatment. With less scarring, the chance of blood vessel re-narrowing is reduced. One of the most common causes of recurrence of stenosis after treatment for peripheral artery disease is from scarring, not plaque.
"The whole goal is to increase the longevity of an intervention. We want to fix somebody and have it stay fixed," Dr. Moore said.
The technology is still being used, and patients in the registry are being followed as part of 1,000 total patients nationwide during the next three years to help determine the best combination of peripheral endovascular therapies needed to achieve the most durable results.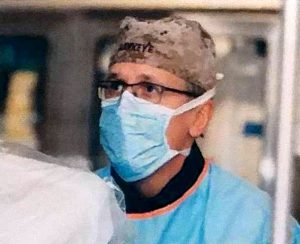 Erin Moore, MD, FACS, RPVI, vascular surgeon and chief of Thoracic and Cardiovascular Surgery at Baptist Jacksonville.