Dr. Steven Curiale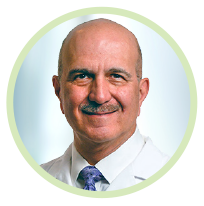 Steven V. Curiale, MD, FACS, joined Cardiothoracic & Vascular Surgical Associates in March 2019. He is one of two surgeons providing cardiothoracic surgical care at Ascension Sacred Heart in Pensacola, Florida. Dr. Curiale has a wide variety of experience and training.
He served in the U.S. Navy in several capacities, including ship's surgeon aboard the aircraft carrier USS Midway in Yokosuka, Japan; chief of the Division of Vascular Surgery at Bethesda Naval Hospital; and chief of surgery aboard the hospital ship USNS Comfort. After leaving the Navy at the rank of commander, Dr. Curiale became director of Cardiothoracic and Vascular Surgery at the Finger Lakes Heart Institute before relocating to Connecticut.
Dr. Curiale earned his undergraduate degree at Brooklyn College and his medical degree at the Uniformed Services University of the Health Sciences in 1983. He completed his residency in general surgery at Bethesda Naval Hospital before being deployed. He then finished his residency in cardiothoracic surgery at Yale-New Haven Medical Center and two years later became the first full-time vascular surgery fellow at the Jobst Vascular Institute in Toledo, Ohio.
Dr. Curiale's area of interests include traditional and minimally invasive valve surgery, coronary revascularization, diseases of the aorta, transcatheter aortic valve replacement (TAVR), mitral clip, and surgery for diseases of the chest, including lung and esophageal cancer. Dr. Curiale also performs robotic surgery for lung cancer and other diseases of the chest.
FELLOWSHIP
Jobst Vascular Institute, Toledo, OH, Vascular Surgery – 1994
RESIDENCIES
Yale-New Haven Medical Center, New Haven, CT, Cardiothoracic Surgery – 1991 Bethesda Naval Hospital, Bethesda, MD, General Surgery – 1988
MEDICAL SCHOOL
Uniformed Services University of the Health Sciences, Bethesda, MD – 1983
UNDERGRADUATE
Brooklyn College, Brooklyn, NY – 1979
OFFICE
Sacred Heart Hospital
5151 N. 9th Avenue
Suite 200
Pensicola, FL 32504