Dr. Rick Proia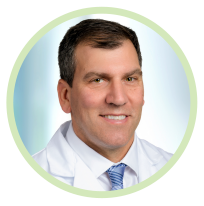 Rick Proia, MD, specializes in all facets of adult cardiac surgery, with specific interest in coronary revascularization and structural heart disease.
He has been participating in percutaneous treatments for valvular heart disease, such as transcatheter aortic valve replacement (TAVR) and mitral clip, since 2017. In addition, Dr. Proia has extensive experience in minimally invasive pulmonary surgery.
Dr. Proia joined Cardiothoracic and Vascular Surgery Associates in May 2020, after practicing for 15 years at North Florida Regional Medical Center in Gainesville, Florida.
Dr. Proia grew up in Rochester, NY, and attended the University of Pennsylvania, where he earned his undergraduate degree in physics in 1992. He went on to Columbia University College of Physicians and Surgeons in New York City for medical school, finishing in 1997. Subsequently, he completed his general surgery training at Dartmouth-Hitchcock Medical Center in New Hampshire, followed by a return to New York City for his cardiothoracic fellowship. He completed cardiac surgical training at New York Hospital/Cornell Medical Center and non-cardiac thoracic training at Memorial Sloan Kettering Cancer Center.
FELLOWSHIP
New York Hospital/Cornell Medical Center, Cardiac Surgery; Memorial Sloan Kettering Cancer Center, Non-cardiac Thoracic Surgery, New York, NY – 2005
RESIDENCY
Dartmouth-Hitchcock Medical Center, Lebanon, NH – 2003
MEDICAL SCHOOL
Columbia University College of Physicians and Surgeons, New York, NY – 1997
UNDERGRADUATE
University of Pennsylvania, Philadelphia, PA – 1992
OFFICE
St. Vincent's Office 1824 King Street Suite 200 Jacksonville, FL 32204