Dr. Raymond Lee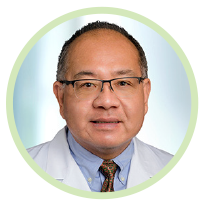 Raymond Lee, MD, FACS, is widely respected for his work in minimally invasive heart and lung surgeries.
He and one of his partners, Dr. Mark Mostovych, created the first minimally invasive surgery program in Jacksonville to treat valvular heart disease, atrial fibrillation and lung cancer. Drs. Lee and Mostovych have subsequently trained many visiting heart surgeons from across the country in their techniques.
Dr Lee attended the Massachusetts Institute of Technology for his undergraduate education and graduated magna cum laude from Harvard Medical School in 1988. He completed his general surgery and cardiothoracic surgery residency at the Massachusetts General Hospital and Boston Children's Hospital. He joined Cardiothoracic & Vascular Surgical Associates in January 1998.
Dr. Lee practices a complete complement of cardiovascular and thoracic surgery, which includes coronary revascularization, valve surgery, lung surgery, carotid surgery and endovascular aortic stenting. He has a special interest in valvular heart disease via a minimally invasive approach, and robotic lung surgery.
Dr. Lee is a Fellow of the American College of Surgeons and a member of the Society of Thoracic Surgeons. He is board-certified by the American Board of Thoracic Surgeons.
FELLOWSHIP
Massachusetts General Hospital, Boston, MA, Cardiovascular and Thoracic Surgery – 1997
INTERNSHIP & RESIDENCY
Massachusetts General Hospital, Boston, MA, General Surgery – 1995
MEDICAL SCHOOL
Harvard Medical School, Boston, MA, magna cum laude – 1988
UNDERGRADUATE
Massachusetts Institute of Technology, Boston, MA – 1984
OFFICE
St. Vincent's Office
1824 King Street
Suite 200
Jacksonville, FL 32204