Dr. Nathan R. Bates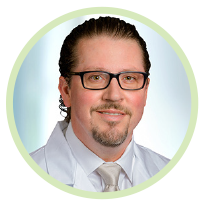 Nathan R. Bates, MD, FACS, joined Cardiothoracic & Vascular Surgical Associates in January 2008, after completing his cardiothoracic surgery training at Massachusetts General Hospital, Harvard Medical School.
He established a new Cardiothoracic Surgery Program at Orange Park Medical Center in Orange Park, Florida, in December 2010, and built it into a three-star STS (Society of Thoracic Surgeons)-rated program, the highest rating possible, based on patient outcomes.
Dr. Bates was the first in Northeast Florida to perform a da Vinci robotic lobectomy for lung cancer in 2011; the first to perform robotic mitral valve repair surgery in 2014; and the first to perform robotic atrial septal defect repair, tricuspid valve repair and coronary artery bypass surgeries robotically. He is one of the few surgeons in the country who perform both cardiac and thoracic procedures with the robot. He has performed over 500 robotic cardiothoracic procedures and is a proctor for Intuitive Surgical to train and mentor surgeons learning robotic thoracic surgery.
Dr. Bates is currently the chief of Cardiac Surgery at Baptist Medical Center in downtown Jacksonville. He practices a complete complement of cardiovascular and thoracic surgery, which includes coronary revascularization, valve surgery, aortic aneurysm surgery, TAVR (transcatheter aortic valve replacement), lung surgery and vascular procedures. He focuses on a minimally invasive approach when applicable, and he is passionate about quality and patient outcomes.
Dr. Bates' personal overall quality rating by the STS , which is based on outcomes over a three-year period analyzing coronary artery bypass surgeries, valve surgeries or a combination of the two, is listed as "higher than expected,' which is the highest rating possible and encompasses only the top 16% of all practicing cardiothoracic surgeons worldwide. He is a fellow of the American College of Surgeons and a member of the Society of Thoracic Surgeons. He is board-certified by the American Board of Surgery and the American Board of Thoracic Surgeons.
FELLOWSHIP
Harvard Medical School, Massachusetts General Hospital, Boston, MA, Cardiothoracic Surgery – 2007
INTERNSHIP & RESIDENCY
University of Kentucky, Chandler Medical Center, Lexington, KY, General Surgery – 2005
MEDICAL SCHOOL
Wright State University School of Medicine, Dayton, OH – 1999
UNDERGRADUATE
Northern Kentucky University, Highland Heights, KY – 1993
OFFICE
Baptist Downtown Office
836 Prudential Drive
Suite 1804
Jacksonville, FL 32207